AR-15 Trust Fund Engraving Richmond VA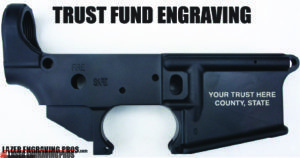 We have the ability and creative skills to custom engrave your AR-15 Lower OR – Maybe you just need a plain ol' trust fund engraving. We are the gun engraving experts here in Richmond, Virginia. Custom Engraved AR-Lowers are one of our many specialties. We can engrave whatever you want on any type of firearm or metal surface. Custom Engraving metal is an art – even if the text itself is not meant to draw a big impression. There is even a little science involved…and we've got the science down for AR-15 Trust Fund Engraving.
 Are you doing a Custom AR-Build but you need a trust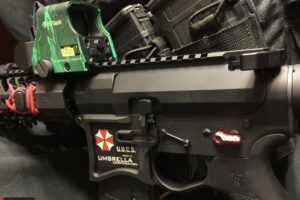 fund engraving? You came to right place! Do you plan on purchasing an AR-15 lower for purposes of building a custom AR-15?  Pictured right is an AR-15 Lower that we did for a Custom AR-Build that had a resident evil theme to it.  We have fantastic graphic designers on-site that help to ensure that your AR Lower, rifle, pistol or shotgun is going to impress everyone that takes a gander at it. AR-15 Trust Fund Engraving is something that we take very seriously, as we know the amount of paperwork and headache associated with it.


Do you have a project or want to get your firearm
engraved? Do you want custom engraved handguns?
– AR-15 Trust Fund Engraving –