Glass Engraving Richmond VA
There is single-handedly nothing cooler than being able to shoot objects made of glass with intense laser beams in order to make awesome artwork come to life. Glass Engraving Richmond VA – Pictured left was a set of mason jars with built-in handles. They were used as gifts for a wedding certainly will be kept forever by those fortunate enough to receive one as a gift. These are handy devices for beverage drinking, but laser engraving the initials of loved ones indicating a date of marriage really steps it up to something more than a jar. Glass Engraving Richmond VA.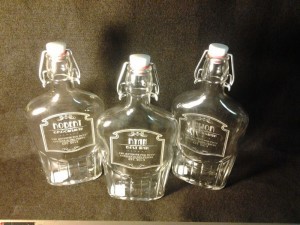 Picture right are some very cool glass bottles that we did for a marketing company. I guess you might call it a reusable flask or drinking bottle? These are very cool reusable bottles with reusable caps. We love engraving pint glasses, bottles, jars, glass containers, frames and display items also made out of glass. The look of laser etched glass is similar to that "frosted look" that you can see and feel with your finger-tips. Laser Engraved Glasses & Glassware is our specialty. Glass Engraving Richmond VA

Pictured left is a set of laser etched glass plaques that we engraved for the SBA Administration. Reverse etched glass plaques, signs and awards are awesome, especially the smooth touch that they offer… because it's engraved backwards. If you've got glass that needs to be laser etched or engraved… bring it on down! We laser etch and engrave all kinds of awards, plaques and trophies! However we don't offer generic stuff out of the catalog – if you want something unique like…Laser Engraved Glasses & Glassware? Stop on by! Glass Engraving Richmond VA
Do you have a project or want Laser Engraved Glasses & Glassware ?
CONTACT US
OR

OR