Engraved Flasks & Cups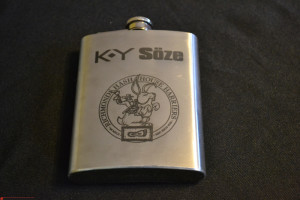 This is a wonderful example of what a laser engraved flask looks like, we even included a video to show you the process. We can produce Engraved Flasks & Cups with almost any brand no matter what it is made of! Aluminum flasks, stainless steel, leather flasks or virtually any surface if you name it we can mark it ! When you need to custom your travel vessel or 10,000 of them, we will get it done! Engraved Flasks & Cups, Switchblades, Batons, Grenade Pins,  Assault Weapons, Shot Glasses, Tools, or virtually anything that you can think of. Run it by us and we'll let you know if we can laser etch your custom items. We will always try to the best of our ability.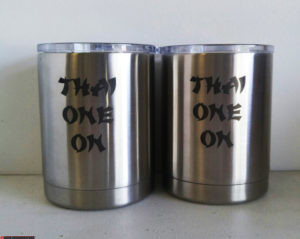 Whether you need five Engraved Flasks & Cups or 50,000 – we will throw you a price that won't blink at. We don't always laser etch flasks and knives, sometimes we pad print them. We offer fantastic pad printing services in-house if you want us to print a custom color onto your flasks as well. We Custom Engrave flasks, cups and virtually anything for marketing companies, banks, trucking and hunting companies. Custom Engraved Yeti Mugs have been a popular item for 2015 and 2016 and their existence seems to maintain a heavy demand. The day I laid my eyes on a Yeti, I knew that it was revolutionary.  Everybody loves these metal cups.  🙂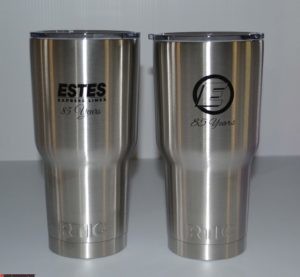 We engrave the 30 ounce Yeti & The 20 ounce Yeti and everything else in their entire catalog!  (Also The Coalster and the Lowball) Sometimes when the volume is super and the client demands a quick turn around for customized Yeti hardware, I will send it to my in-house Pad Print department. Pictured left is a Laser Engraved Yeti – by Laser Engraving this Yeti we are adding a permanent graphic that will not scratch off or fade away. We have specially designed custom Lasers that were manufactured to meet the requirements of Yeti Marking. Engraved Flasks & Cups. If you need Engraved Flasks & Cups, whether 1, 5 or 5,000 – you finally found the right place.

We'll turn them around with a smile! Engraved Flasks & Cups are our forte'. This is an example of the Yeti Lowball, the new and improved way to deliver a beverage to your lips. The ultimate experience in enjoying a tasty beverage. My, my, my, that is a tasty beverage. Do you want Engraved Flasks & Cups, Tumblers, or Ramblers? Come get some! Engraved Flasks & Cups are great when they're filled with a cold beverage of your choice.
CONTACT US
OR

OR