Custom Nameplates and Tags, what you need to KNOW!
Laser engraving is renowned for its exceptional accuracy and precision, especially for Custom Nameplates and Tags. Guided by computer-controlled systems, lasers emit concentrated beams of light that can engrave intricate designs and details on various materials with incredible accuracy. The precision of laser engraving is measured in microns, ensuring fine, sharp lines and intricate patterns that are nearly impossible to achieve through manual methods. This accuracy is consistent across a wide range of materials, from wood and acrylic to metals and ceramics, allowing for versatile applications in various industries. Whether it's intricate artwork, precise serial numbers, or detailed text, laser engraving delivers unparalleled precision, making it a preferred choice for tasks that demand meticulous detailing and high-quality results.

Need Plastic Nameplates for the office, the cubicle or your front door to scare off solicitors?  WE GOT YA COVERED! We are the go-to company for Plastic Nameplates, tags and signs. Plastic Nameplates are a requirement for any office, desk or cubicle. Do you have a cubicle? Do you need to claim your territory and your throne? Look no further! We can offer any kind of Plastic Nameplates  that you could ever ask for.Just make sure not to put J E L L Y in the waffle iron. We aren't sure of the consequences but they are probably harsh. Could it result in a busted waffle iron?We have a variety of color! We're pretty good at spelling too!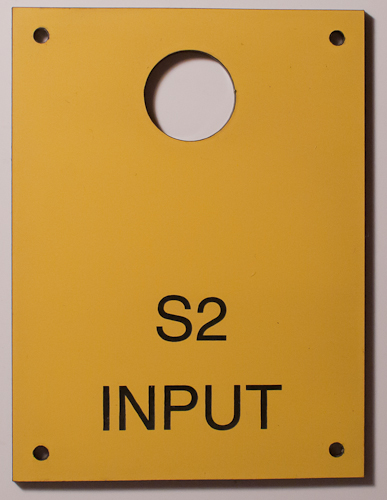 So if you need a custom name plate, a custom sign or something made out of some kind of substrate we can technically make you a name plate or sign out of wood, plastic, stainless steel, aluminum, acrylic, ABS, or a banana. I have an imagination? A popular favorite substrate would be plastic. Yup, that's right, most people purchase plastic nameplates as they are cost effective and available in many colors. We have many options available for holders, whether your want your Custom Nameplate mounted on your door, outside of your office on the wall or hanging off of your cubicle. We have plastic nameplates available in so many colors! There are too many to list but chances are, if you want Custom Nameplates for the office, we can get you squared away. Our graphic designers are on stand-by to help create a nameplate that stands out from others.

If you need a desk plate, a plastic engraved sign or Plastic Nameplates – Contact us!
Do you have a project or want to get something custom engraved?
CONTACT US
OR