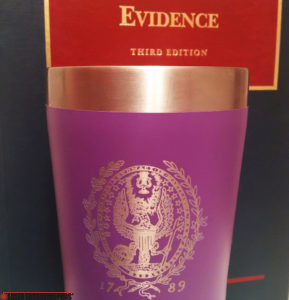 Your college logo is a source of pride. Reminds you of the good old days at the alma mater, singing the school song, chanting at the big games, waving your flags in the faces of the opposition. Back then, the college logo was everywhere. Now that you're off-campus, though, how can you maintain that spirit? It's simple. Get it printed on everything you own! Or better yet, laser-etch it for complete permanence. Or perhaps you are a college (or a representative thereof), looking to get your college logo printed on items for sale in the campus store. In that case, you're probably going to want to order in bulk. Good news: we love bulk orders! The bigger, the better. One time, we printed so many travel mugs with college logos that it completely filled our warehouse, and we had to navigate a maze to get to the machines.
That story's not true, but someday it will be. Will it be your college logo order that makes it a reality? If you already have the items you'd like to see your college logo on, you can ship them to us for printing. Or, if you'd prefer, we can take care of the entire process. You just send us your information, and we'll order the items you need, print or etch your college logo into them, and send them straight to you! Nothing could be easier. If you're proud of your college, then display your college logo with pride. We're here to help you do that! Our custom processes will make sure that your logo is displayed beautifully, precisely and indelibly. Whether we're printing or laser-etching for you, you can be sure that your product will be a source of pride.
Want Your College Logo Printed on Your Stuff?