Custom nameplates are a mark of distinction in the business world. Now, obviously they make you distinct from the people with different custom nameplates. That's what they're for, after all. Custom nameplates help you identify the co-workers whose names you can't be bothered to remember.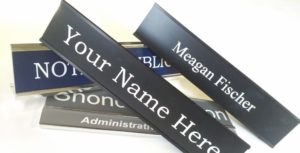 But they also set you apart from those poor saps who do not have any custom nameplates. These nameless vagabonds sit in their empty, pallid offices, wondering why their customers never call them back. It's easy: their customers can't remember their names. They know they were at the office, but everyone was unlabeled, and the customer is too embarrassed to call up and admit that they've forgotten who everyone was. Far easier for them to call up a competitor, someone with custom nameplates clearly identifying everyone in the office. It's just the way of the world! Even if you don't have coworkers, custom nameplates are still a fantastic option. You can label important equipment, rooms, or anything else. With custom nameplates, the world is your oyster. Your clearly labeled oyster. Perhaps his name is Orville! You will never have to wonder. It will be on a nameplate next to him, or possibly even on his shell. This metaphor has gotten way out of hand. Let's move on.
We can create any number of nameplates you need, from one to one million! We haven't had to make an order of a million plates yet, but if you've got the need, we've got the technology to get it done for you quickly and efficiently. Just send us your information through the RFQ form located below, and we'll get the process rolling. You'll be properly labeled in no time at all!
Custom Nameplates: Show Them They're Appreciated
Call Us! – 804.234.4990