Customized cups show everyone that you're hip to the sip. That sounds a bit like an ad for an alternative energy drink from the mid-90s, but it's all right because it rhymes. Rhyming is the most important piece of any ad slogan. Customized cups make you think when you drink! Customized cups: put some cheer in your beer! These lines may be cheesy, but they'll stick with you. It's like that song that you don't actually like, but find yourself humming the chorus of, anyway. You know, the really annoying one.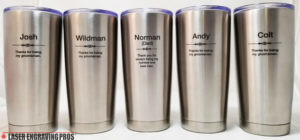 Sorry, is that song in your head now? Apologies. Think about Rick Astley's "Never Gonna Give You Up." That should get it out of there. If you can't think of the words, just sub in "customized cups" for whatever part you've forgotten.
We're no customized cups
You customized cups and so do I
A full commitment's what I'm thinking of
You customized cups with any other guy
I just wanna tell you how I'm feeling
Gotta make you understand
Never gonna give you up!
Etc.
See? Just like that. I'm assuming I can just say "etc" at that point because if you don't know the chorus, no amount of word substitution will help you. You're on your own there.
But you're not on your own when it comes to customizing cups! We're fantastic at that, even better than we are at slogans and earworms. You tell us what you need, and we'll put it on a cup for you. Any image, quote or logo, in any quantity you need! Any whole-number quantity, anyway. We can do fractions of a cup, but we can't guarantee that they'll hold liquids afterward. That's what happens when you cut away part of a cup. Don't blame us! Blame physics. We're no strangers to cups.
Shoot, I've gotten that into my own head!
Customized Cups, for a Classier Life.
Call Us! – 804.234.4990