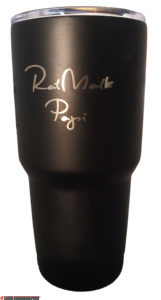 These days, everyone has metal tumblers. And no wonder! They're attractive, cost-effective and hardy. The big problem they have is that each one looks like every other. But not yours! Not once you get a customized tumbler printed or etched by us! And if one customized tumbler isn't enough? If you need many for a corporate or collegiate event, we have good news for you: we love bulk orders! Just as easily as we do one customized tumbler, we can do a hundred or a thousand of them. And we work fast!
Stickers are no good; they peel. Markers wash or rub off. When you want a customized tumbler that lasts, you need to go for pad printing. Pad printing ensures that your customized tumbler will keep displaying your graphic or message for years to come! You never have to be concerned that your customized tumbler will return to its blank metal state. And if pad printing isn't permanent enough for you, we can use our lasers to engrave it instead. Your tumbler will stay customized for life. If you know exactly what you want your customized tumbler to look like, then just send us your graphics files and we'll get those into our printing machines. If you haven't finalized your art, we can finalize the art for you. We can print in any color! If you already have the tumblers, you can ship them to us for printing. If you'd prefer, we'll order them directly from the supplier and ship the final printed product directly to you. If you need rush shipping, we can make that happen, too! We are completely customer-focused. So zap us your files, or even just a vague idea, and we'll get you a custom quote today!
A Customized Tumbler Is in Your Near Future!