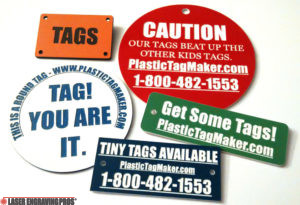 Engravable tags aren't just any tags. They're every tag! If you were planning on writing on something to label it, put that thought aside. We're here to show you how much better engravable tags are than that. And not only are they convenient and professional, they're inexpensive, too! No matter what you're planning to label, engravable tags are the way to go. Whether it's something as small as a cable or as large as a factory machine, you can slap engravable tags on to label them in any way you need. Inventory tracking becomes a breeze! Warning signs are made legible and durable. No cheap-looking paper taped up for you! You've got engravable tags doing that job, being plastic, water-proof and colorful!
Are you looking for engravable tags in a specific color? We have that color. Doesn't matter what it is! We have them all. If we don't have it, we can get it. If we can't get it, it doesn't exist. We'll match our tags to your company logo, your branding scheme or anything else you need! And of course, we can print colors over the engraving, so if you need multiple colors we can do that, too. If you already have the tags, then ship them over to us and we'll engrave them for you and send them back. Or if you just have the idea for what you need, we'll take care of the whole thing from start to finish and turn your request directly into a complete product. We know how to get you the engravable tags you need, no matter what special requests you have. So let us know what we can do for you, and be prepared to be amazed!
With Engravable Tags, There's Nothing You Can't Do!
Call Us! – 804.234.4990