Engraved bottle openers are a brilliant idea. As the comedian Mitch Hedberg once said, "I just bought a $20 pen. Because I'm always losing pens, and I'm tired of not caring." He makes a great point! The worst thing about bottle openers is knowing that you have one around, and not remembering where you put it. With engraved bottle openers you won't have this problem, because you'll care where it is. And you'll care because engraved bottle openers are far superior to regular ones! Any bottle opener can open a can of beer. Even a lighter or a picnic table can do it. But only engraved bottle openers can open a can of beer with style.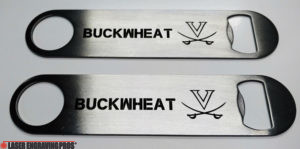 So who are engraved bottle openers good for? They're good for everyone! If you get fancy metal ones, you can give them as wedding, groomsman or bridesmaid gifts. Or if you go for small keychain ones, they're a great thing to slap your corporate logo on and use as giveaways at trade shows and other events. They're good for all occasions! I mean, probably you shouldn't give one to your friend who's celebrating a year sober or anything, but other than that. And even he might need one if he likes fancy sodas or something. Use your judgment, that's all we're saying.
So if engraved bottle openers are so perfect for everything, why don't you already have one? There are only two possibilities: either you do already have one, or your company and all of your friends are deadbeats. If it's the former, then congratulations! We're glad to see you paying it forward. If it's the latter, we're sorry for your unfortunate circumstances, but good job being the one to break the cycle! Get those engraved bottle openers! Make a difference!
Engraved Bottle Openers Open Bottles With Panache
Call Us! – 804.234.4990