Engraved Ukulele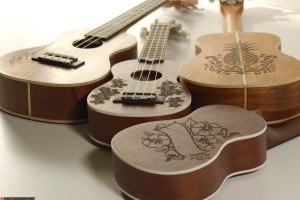 We love engraving Ukuleles and Guitars. Here is a video of an engraved ukulele.  Sorry about the improper grammar. Aaron delights in butchering the English language. Engraved Ukulele.
We love virtually anything made out of wood that we can add a nice etching to. Engraved Ukulele.
Laser etching wood is my favorite, I love the woodgrain on a rosewood or maple guitar neck. I first started playing guitar when I was eight years old, I never imagined that I'd be laser blasting them 20 years later, much less even own lasers. I can easily fit most large dreadnought guitars into my machines but I am always skeptical and not a huge fan of etching a 3,000 dollar taylor (especially a one-off) that's terrifying. Engraved Ukulele.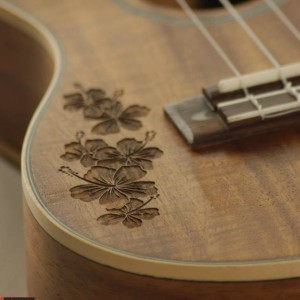 As far as laser engraving Ukes, they're a breeze, especially in larger batches because I can etch twelve at a time or more depending on the size and what they want done to them. I would love to see a higher increase in laser etching Ukuleles in larger batches. Unfortunately, the process of creating an engraved ukulele can be a bit time consuming. We do it because it's awesome and it looks cool. Spectacular engraved ukulele! Send me your Ukes, Guitars, Wooden Necks, Headstocks, Bridge plates, Tuning Knobs, Pick guards, Acrylic Hardware and anything wood or guitar related and I will get it done. Engraved Ukulele.
Do you have a project or want to get something custom engraved?
Got A Project? Fill Out This Quick RFQ Form – OR – Email Us Directly! Call Us! – 804.234.4990