The groomsman gift. An often overlooked part of the wedding ceremony, and yet, years down the line, the only tangible reminder that your friends may have of the day they all put on tuxes and clowned around with you for photos.And yet, if you just get a generic groomsman gift, they'll have no reminder linking it back to your wedding day. Do you want your groomsmen saying, "This is a great knife, but where did I even get it?" Or do you want them saying, "Man, X sure gave me a fantastic groomsman gift! I'd be in his wedding again any time." I am assuming here that your name is X. Statistically, that's unlikely, but if I'm wrong, please mentally insert your own name. And if I'm right: hello, X! Boy, have we got the groomsman gift for you.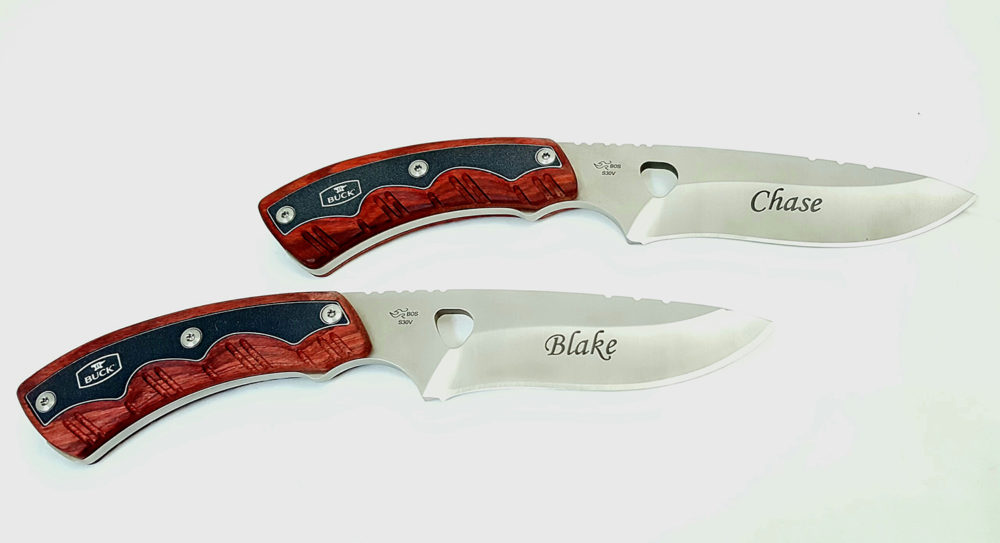 We can help you with the perfect, unforgettable groomsman gift. It's a two step process: you tell us what you need engraved, and we engrave it for you. That's it! You're just two easy steps away from a custom-made groomsman gift to celebrate you and the future Mrs. X. And we're fully responsible for the second of those steps, so really you're just one small step away from that gift. You're nearly there! Just one step to go! How do you take that first and final step, you ask? Simple. We've got a convenient RFQ form at the bottom of the page. You fill that out with the information we need about your groomsman gift, and we leap into action. And if this slipped through the cracks, what with all of the other wedding planning you're doing, not to worry! We're great at rush orders. You tell us what you need and when you need it, and we'll make it happen!
The Best Groomsman Gift Has Customized Engraving.