Groomsmen Gifts
Selecting the perfect groomsmen gifts is a thoughtful way to express gratitude to your closest friends and family members for standing by your side on your special day. It's an opportunity to show your appreciation for their support and friendship. When choosing groomsmen gifts, consider items that reflect their personalities and interests, whether it's personalized accessories, stylish grooming kits, or custom-made items. Personalization adds a special touch, making the gifts unique and memorable. These tokens of appreciation not only serve as a thank-you gesture but also as cherished mementos that commemorate the bond you share with your groomsmen, making your wedding day even more meaningful and unforgettable.
If you can imagine it, we can engrave it.  Groomsmen Gifts – We're really good at it so you should give us the opportunity at your business! We do it for a living professionally, five or six days a week. Med School just didn't work out for us, but engraving did!  We have no problem laser blasting your item(s) and delivering a quality mark that makes you smile. We're great at turning your projects around efficiently, if you need us to engrave with the quickness, box em up and send em' out like a boss… we'll do just that! LIKE A BOSS! We'll need a shipping address though…. but we need to start somewhere first…. submitting an RFQ below for your engraving project would be step one. Or calling us! In regards to Groomsmen Gifts, don't go with an engraving company that doesn't pay attention to detail. They might end up messing up your Groomsmen Gifts! That can be a costly mistake.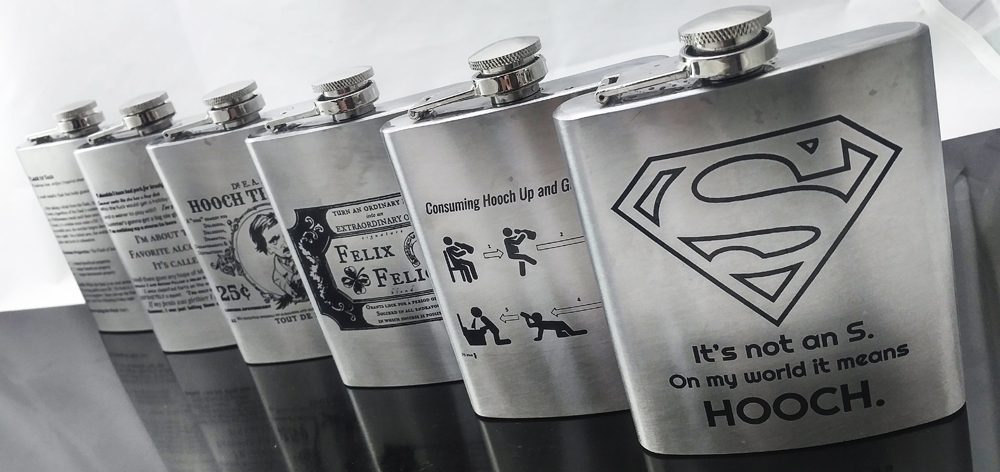 When you need something done right the first time, like Groomsmen Gifts, we're the shop that you should turn to. Groomsmen Gifts is just one of our many specialties and we'll make your product look great without a doubt! We're the go-to people for all sorts of work, from weapons, nameplates, signs, data plates and even live fruit. We love helping our customers put their mark on the world. As custom engravers, it's our sworn mission to laser up as many things as we possibly can. All you need to do is point us at a target, and we'll get to work for you. We love to laser! We just can't stop. We accept new work requests through the convenient RFQ form located below, or by email or phone if that's your preference. Groomsmen Gifts – it's is what we do best, which is why we do it – so let us do what we love!
Established more than a century ago, our family company stands as a testament to enduring values, unwavering dedication, and a commitment to excellence. For over 100 years, we have proudly served our community, evolving with time while upholding the traditions that have defined us from the beginning. Passed down through generations, our business is more than just an enterprise; it's a legacy of hard work, resilience, and the pursuit of quality. Over the years, we have not only weathered various economic climates but also flourished, adapting to changing markets and customer needs. Our long-standing presence in the industry reflects the trust and loyalty of our customers, who have become an integral part of our extended family. With a rich history behind us, we look forward to the future, continuing to innovate, grow, and serve generations to come with the same passion and integrity that have been our guiding principles for a century.
Groomsmen Gifts!
– OR –
Call Us! – 804.234.4990