LASER ENGRAVED ACRYLIC
We have laser engraved acrylic in assorted colors and sizes! We custom cut acrylic to the shape and size needed. If you need contours and patterns cut from acrylic – you're going to need someone with a laser. Laser Engraving Pros are here to finish the job. We've laser engraved acrylic since the late 90's, so we are well versed in projects handling acrylic. The picture taken to the left is an example of a UV screen printed, and laser engraved acrylic. Laser Engraving Pros have a fantastic UV Screen Printing Department, and we can print and cut various shapes.
We generally stock clear acrylics in thicknesses of 1/16″ thick all the way up to 1/4″ thick. Acrylic is an innovative invention. Most of the time we end up producing items out of 3/16″ Acrylic. We have learned over time that 3/16″ is a fairly durable thickness, and this thickness is ideal for POP Displays. Most people heat and bend it in order to create custom boxes, displays, and packaging for retail.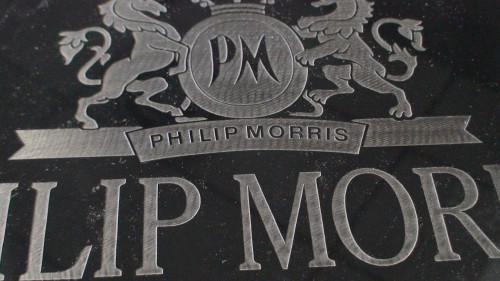 Below is a sample of a massive Philip Morris logo that we laser etched onto black acrylic. This picture is obviously from before it was wiped down and cleaned, but this picture gives you a raw glimpse into the detail that can be achieved with our lasers. This isn't the most intricate engraving we've done – but that logo is 30″ x 18″ in size and really sticks out in person. It was laser etched into 1/2″ black Acrylic and has nice rounded corners. If you have a project that requires laser cut engraved acrylic, we've got you covered!
Do you have a project or want to get something custom engraved?