A laser engraved cleaver is not for the faint of heart. A cleaver is already an impressive tool, and once the time has been spent to laser engrave it, you know that the person wielding it is a true professional. It's like those people who carry around their own pool cues in felt-lined suitcases. When you see someone putting one of those cues together, you know they're not messing around. That's the same feeling people will get about you when they see your laser engraved cleaver.
To further enhance that effect, we've put the word #SAVAGE on this laser engraved cleaver. No one will confuse you for a mild-mannered sous chef! You're #SAVAGE! With this laser engraved cleaver in your hand, you're ready to take on the world. The world of food. Which pretty much is the regular world, if you think about it. Don't shy away from these thoughts. You're #SAVAGE now.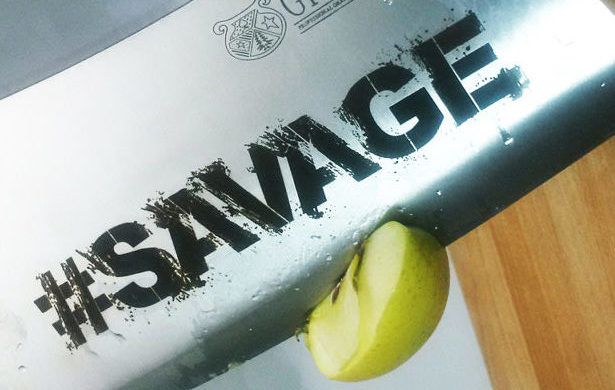 We'll engrave anything. Aluminum, Acrylic, Glass, Plastic, Stainless Steel, Stone, Wood…We engrave it all! We will not engrave people or animals. Laser engraving metal is what we do – We do not condone applying lasers to people. That's strictly a Bond villain move, and that's not who we are. Look around your home, office or space station. So many blank surfaces! Bring your meat cleavers to us. Let us apply our lasers to them. Any words, any image, anything you can imagine! We will engrave it all for you, and we'll do it at rates you won't even believe. To clarify, our rates are unbelievably good. You'll be pleasantly shocked to find that you can't believe them. Contact us today, so we can engrave your meat cleavers! Let's get our lasers and your surfaces together. UPS will deliver anywhere else in the Lower 48, all you have to do is a provide an address that is not a P.O. Box and pay for it.
Your laser engraved cleaver can do everything that a regular cleaver can do, only with more style. Much more style. It's not even a contest. Whatever you need to cleave, your laser engraved cleaver will be ready, willing and able to assist. No cut of meat is too mighty for you! But with great power comes great responsibility, so look deep into yourself and ask: am I ready for this? Am I ready to bring such an awesome blade into my life? If you're ready to take on the mantle of owning a laser engraved cleaver, then we're ready to custom-create one for you. Whatever design, whatever words you want, we can etch them on with laser precision. Contact us through the RFQ form below, and we can get started immediately! You're living in the future now. And the future is cleavers. #SAVAGE.