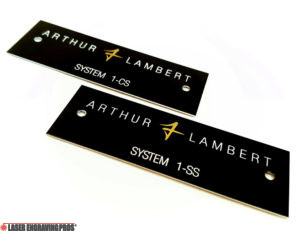 A metal name plate looks great in any circumstance. But where could you get such a thing? We make plastic tags of all sorts here, but metal? You're in luck: we can make you the metal name plate of your dreams. Picture your name. Now picture it on a metal name plate. Impressive, right? And it doesn't have to just be your name. You could get a metal name plate for every person in your office. For that matter, you could get a metal name plate for every machine in your office, too! Everything can be labeled in elegant, durable metal.Basically, anything we can do with plastic, we can do with metal. Screen printing, engraving, etching — all of this and more! We can cut your metal name plate into any shape or size you want. Whatever design, whatever pattern. It's all within your reach. Many people like stainless steel, but another attractive option is aluminum. We can also do copper, tin, bronze and more!
We can turn anything into a metal name plate, as long as it's made of metal. So don't feel confined by the ordinary! If you already have something you'd like a name applied to, just send it our way and we'll get your name right on it. Any name, any length, as long as we can fit it into the space available. We've also got the setup to produce bulk quantities quickly, accurately and efficiently. Our machines ensure that you'll get a perfect image every time. So use the convenient RFQ form below to get in touch with us, send us your information and let us get you a custom quote. We'll have you looking at your name in metal in no time at all!
Metal Name Plate Engraving Makes Labels Permanent!
Call Us! – 804.234.4990