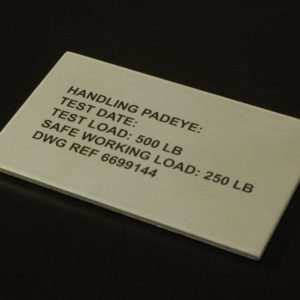 A metal tag is a fantastic way to label your belongings. This is true whether you're a business or an individual.  No matter if you have one thing to track or one thousand, giving each one an individual metal tag will help with labeling, numbering and identification. We make hundreds of thousands of aluminum ID tags each year, and each metal tag is designed according to custom specifications and built to last. We can laser-etch your metal tag, or laser engrave it for greater depth. Do you need a specific Pantone color for your metal tag? Not a problem! We can screen print it. Aluminum is a popular style of metal tag, as it is rust-proof, resistant to fading and lightweight. Our aluminum comes in many thicknesses and we can custom-cut and punch it to any shape. If you need another metal, though, that's just as easy. We can do stainless steel or many other metals.
If you have machinery or other expensive equipment, a metal tag is a great way to clearly label it for inventory and tracking purposes. Do you have to worry about updated information/parts or service? We can engrave, etch or screen print various graphics, data, or even barcodes directly onto a tag for you to affix to the relevant piece of inventory. We can do small or large quantities for you. If you just need one tag, we can make that happen. If you need ten thousand, we're set up to do that, too. If you already have existing tags, we have the ability to go back and etch or engrave variable data into specific fields of the tag. We can produce and ship them on demand, straight to your job site. We're ready to engrave anything you need.
Do You Need a Metal Tag In Your Life?
Call Us! – 804.234.4990