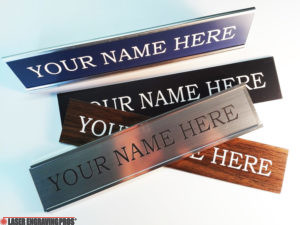 We make ordering custom office name plates easy! If you need plates, all you have to do is send us your data, preferably in Excel format, by form or by email. Our engraving systems import your data directly from the file, bypassing any possibility of human error and preventing you from having to order replacement plates. Before we proceed we always send a proof to make sure you're completely happy before production of your office name plates starts. The file you get will display the placement and engraving fields for each plate. For those that want peace of mind that it will get done right the first time, we will meet your needs! We have custom designed equipment specifically created for office name plates.
Do you want your office name plates on metal? No problem! Prefer them on plastic? Easy! We have many options available for office name plates, whether you're planning to mount them on a door, on a piece of machinery or anywhere else around the office. Our phenolic plastic plate material is available in more colors than we can list but chances are, if you need office name plates for your business, we can get you squared away. Our plates can be made in several different thicknesses and are available with or without holes. Some customers prefer to just go with a heavy-duty adhesive backing when they order office name plates from us, but that depends on the job spec itself. We are the go-to company for engraved nameplates, tags and signs. We can have your custom plates made and shipped directly to your job-site as quickly as you need. We're ready and waiting to help you out!  Contact us through the links below.
Do you need Office Name Plates For Your Office or Business?
Call Us! – 804.234.4990