A nice metal tumbler is a great thing to have. It's durable, functional and stylish. Unfortunately, it looks just like all of the others out there. But you can solve this with a personalized tumbler! Some people attempt to personalize theirs with stickers or markers, but markers wear off and stickers fade and peel. Don't go for half-measures! We can pad print anything you want on your personalized tumbler. And what we print stays, for wash after wash! You don't have to worry that your personalized tumbler will return to its blank metal state. And if pad printing isn't permanent enough for you, we can laser-etch it instead. That's how you make a personalized tumbler that lasts!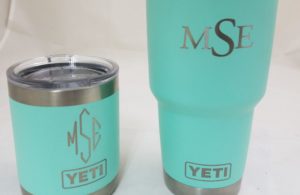 Maybe one personalized tumbler isn't enough. Perhaps you need a bulk order, maybe for a corporate or collegiate event? Good news: we love bulk orders! We can get your information, print or etch each personalized tumbler, and have them shipped to you more quickly than you could believe. We've got a proven track record of speedy, reliable customer service! If you've got your art ready to go, we're happy to take that and print it straight on a personalized tumbler for you. On the other hand, if you just have a concept and need someone to help finalize the idea, we've got graphic artists on staff who are ready to help you out! Similarly, we're happy to either order the tumblers for you, or you can ship ones that you already have to us. We're completely flexible! Check out that classy RFQ form at the bottom of this article! You can fill that out and pop it on over to us, and we'll get you started with a custom quote. Get in touch with us today!
A Personalized Tumbler Is in Your Near Future!