Swig stainless steel winery cups are the perfect way to enjoy a cold, refreshing glass of wine. These stemless beauties will keep your wine expertly chilled, insulating it from the heat of your hand. As a bonus, they'll never sweat and drip condensation onto you, either. Glass winery cups can't say that! And if you're the sort of person who's liable to knock over a standard glass, with its high center of gravity, you'll find that these stemless winery cups are perfectly suited to you. It takes more than a casual tap to overbalance these winery cups! They're still shaped like the bowl of a traditional wine glass, meaning that you still get all of the focused bouquet when drinking. Nothing's been taken away from the traditional winery cups, only added to them! Swig isn't reinventing the wheel. They're just improving it.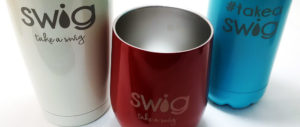 So try a Swig! With their vacuum insulation, copper-coated inner walls and locking lid, these winery cups can keep drinks cold for up to nine hours. And if you're having something hot, like mead, sake or maybe even just coffee, Swig works to keep hot beverages warm too, retaining the heat in drinks for up to three hours! All while protecting your hand from being burned, too. That's a game changer. And best of all, every one of these Swig winery cups can be personalized for you or your business. With laser-etching and pad printing, we'll transfer your name or logo perfectly and indelibly onto the side of the vessel. You can choose from nineteen different colors for the cup itself, and from just about any color for the pad printing. So don't delay: get your name out there! Improve your brand recognition! Try a Swig and improve your drinking experience today!
Forget That Fragile Glass. Try Swig Steel Winery Cups!