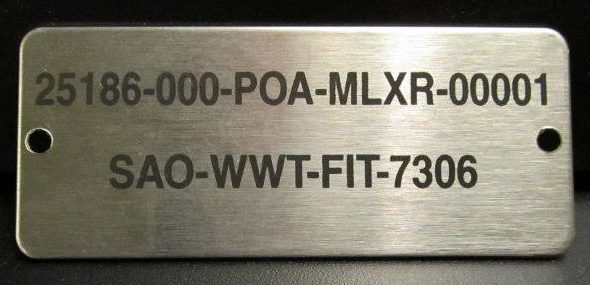 Our aluminum engraved plates are custom-created to fit your needs. The image can be laser-etched, annealed lightly onto the surface or engraved for depth. If you need a PMS Color, we can screen print or pad print directly onto the surface of the engraved plates. Our aluminum comes in many thicknesses and we can custom-cut and punch it to any shape. Engraved plates that have been laser-etched are permanently marked. They'll never fade or wear off. Aluminum engraved plates are ideal for equipment or machinery that requires tracking, updated information or service.
Aluminum engraved plates can be etched or printed with any graphics, data, or information you need. We can engrave the aluminum to various depths depending on what kind of mark you're looking for. Whatever you need your engraved plates to look like, we can do! Laser engraving aluminum is a scientific process that produces a superior product designed for tagging equipment and machinery in an industry that demands longevity and durability. If you need a sign that won't wear down or scuff off, aluminum engraved plates are the way to go. Custom fabricated aluminum data plates and serial plates are among the many services that we offer. No matter what information you need to appear on a label, tag or mark on a particular piece of gear or equipment, aluminum engraved plates will display it simply and elegantly. We can laser-cut our aluminum to any shape with wide format carbon cutters. We custom mark it with various C02 and YAG lasers to ensure the mark that you require. We take laser engraving aluminum very seriously. Need specific fields filled in afterward with variable data?  Not a problem.  We can handle it! Contact us today so we can get started on your custom aluminum engraving project!
Check out our website just for Custom Metal Tags!
Call Us! – 804.234.4990