CUSTOM KNIFE ENGRAVING
Pictured here is a Laser Etched Meat Cleaver! How awesome! This is an example of Custom Knife Engraving – A classic stainless steel meat cleaver that was laser etched with a beautiful script logo to propitiate a local vendor of fine meats. Knife engraving is something that we're good at 🙂 A custom engraved knife for a friend can be a fantastic gift that stands out against others. Do you know someone that is invested in the culinary arts? Maybe your cousin is a chef and has a birthday coming up? We have been offering Custom Knife Engraving for over a decade now, so chances are we can meet the requirements for your custom engraving project.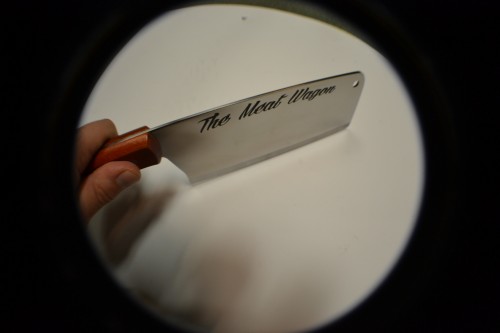 We can custom etch a knife to a particular depth, or just blacken it to give a nice contrasting logo. We have laser etched bread knives, carving knives, boning knives, cleavers, butcher's knives, regular old kitchen knives, table knives, oyster knives, Ulus, pocket knives, paper knives, even machetes! Custom Knife Engraving, Richmond VA! We have engraved knives for chefs and kitchen connoisseurs from all over the world. Meat Cleavers, Kitchen Knives and Machetes seem to be the most popular, if it has a blade or handle… we can engrave it! Do you have a project or want to get your blade custom engraved?